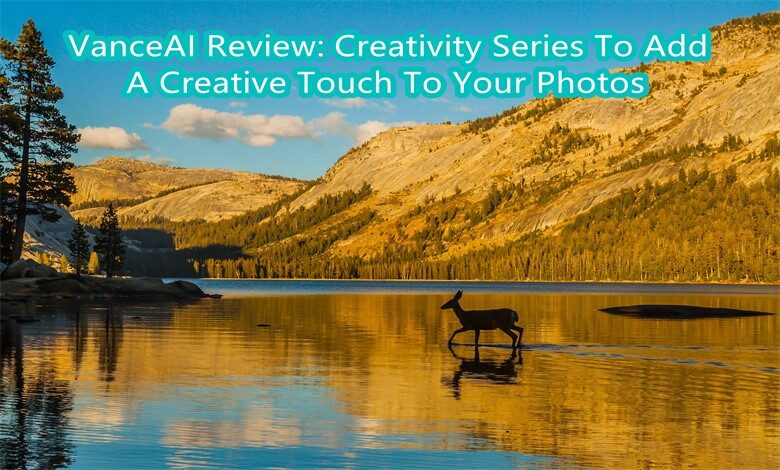 Technology
VanceAI Review: Creativity Series To Add A Creative Touch To Your Photos
Given the number of people who use picture altering software, you will encounter images that are nearly identical on the internet. This holds true in professional and creative situations such as marketing, art, and business. As a professional, going the additional mile to make your photographs stand out from the crowd may be really beneficial. Using the VanceAI Creativity series is one approach to accomplish this. The Creativity series is a collection of VanceAI's creative picture editing solutions, which include services like as photo restoration, photo colorization, photo to sketch conversion, and more. These tools can also be utilized professionally in a variety of settings. Many users who work as visual designers, for example, showcase their own brand by having a cartoon-themed profile picture, cover photo, and banner.
The VanceAI Creativity series tools are all under VanceAI, which means you may use them all together because they are all on the same website. For a more complete look, you may have an image processed by different Creativity series programs. For example, you may first restore old images and then colorize them. In any case, there are numerous combinations you can test with VanceAI, and this review will look at the Creativity tools for you.
Pros:
VanceAI has a very user-friendly interface. It also features a standard UI and a batch processing UI, offering customers extra options.
VanceAI is reasonably priced and offers a variety of premium subscription alternatives. You can begin with really low prices.
It is constantly expanding its library of picture editing tools, thus new updates are released on a regular basis.
Cons:
VanceAI only supports PNG, JPG, and JPEG, but this should change in the future.
Only watermarked results are available to free users.
What exactly is VanceAI?

With VanceAI, you can take use of a plethora of creative photo editing and enhancement tools. This online image editing and enhancement platform was only launched in 2020, so it is very new, but it has quickly gained popularity. Not to mention that it has been continuously improved to incorporate new features and tools at regular intervals. So far, the platform includes all of the tools seen in the image above. In addition to the Creativity series, VanceAI offers the Productivity series, which serves a different objective but, in any case, increases productivity and makes picture editing easier and more accessible to everyone.
That is also one of the primary reasons behind VanceAI's growing popularity. It is fairly simple to use, has straightforward UI designs, and is accessible to a wide range of users regardless of their level of competence in photo editing. The AI-powered design allows users to simply submit photographs and receive responses in a matter of seconds. Users are required to understand how to use desktop software applications in order to obtain results. If they don't, they'll have to employ or ask an expert to do it for them. That would either cost money or require an inordinate amount of time. AI allows for creative photo editing while still keeping image editing practical.
The Creativity Series' Stunning Features
With the fundamentals of VanceAI covered, let's take a closer look at the tools featured in the Creativity series and compare the results.
Restore Old Photos with AI Photo Restorer

VanceAI Photo Restorer can give your old family photos, damaged images, and even historical photos a completely new look. Normally, photo restoration would take a significant amount of time due to the complexity of the entire process of recovering ancient photos. Many factors would have to be considered, such as damage spots, image noise, image color quality, and so on. Not to add that if consumers used traditional software applications, they would have to repair the outdated image themselves. This is no longer the case with AI-powered image editing.
Naturally, advanced applications such as Luminar or Photoshop remain highly powerful and likely offer the finest results. However, VanceAI can still be useful for a variety of purposes. You can still obtain fantastic results using VanceAI without having to do it yourself. You can also use old photo restoration from VanceAI to restore old images and do creative photo editing for free, albeit for a limited period.
Image Colorizer Used to Improve The Look of Old Photos
If you have a black and white photo that you want to colorize and make look more modern, VanceAI Photo Colorizer is the tool for you. The Photo Colorizer recognizes and colors images using AI and Machine Learning techniques. The algorithms improve as they color more and more photographs. Because it has already been trained on a large number of photographs, the Photo Colorizer can cope with any type of black and white image and produce realistic results. Many comparable tools tend to wash over one specific color all over the image, resulting in a lack of detail. However, as the result shows, the colorized image contains all of the shades of different hues grouped in a realistic manner.
The board on the right, the roadway, and the sky are very brilliantly illuminated and colored. The program also does an excellent job of preserving the image's original quality, as evidenced by the glass building on the left. They still reflect the details back, but in color.
Make a Magic Sketch with VansPortrait
VansPortrait allows you to instantly enhance your personal photos, portraits, or selfies and use them everywhere. As said in the introduction, many creative picture editing pros use many things to express their individuality or personal brand. One thing they do is retain their social media photographs of themselves as a cartoon or anime representation of themselves. This genuinely helps viewers understand the type of job that professionals conduct. Furthermore, VansPortrait provides users with a variety of options for determining how the final output will appear. You can progress from a full line drawing to an artistic photo that seems like a colored sketch.
Even inexperienced users can have a lot of fun exploring with these tools, especially with all of the drawing type possibilities available in the Workspace prior to final picture processing. AI allows you to change your portrait and selfie with a single click.
Toongineer Cartoonizer Used to Reshape Photos
When it comes to creative photo editing and image enhancement, Toongineer Cartoonizer is akin to VansPortrait. Even with this tool, you have two options that influence the type of results you get. The program has two algorithms that either convert your photo into a cartoon or an anime themed photo. Simply select which one you want from the drop down menu in the Workspace. This example transforms the original image into a cartoon rendition. In terms of results, the new picture appears quirky and cool.
What's more, the VanceAI tool is also capable of converting the image's backdrop and objects. One of the main reasons the resulting image looks so strange is because the rest of the image matches the woman's aesthetic and visual style.
Pricing for VanceAI
You have a variety of membership and payment options with VanceAI. To begin, if you use your Google account to join up immediately, you may create a free account on VanceAI's website in seconds. Every month, all users receive three free image credits.
The paid choices start at $5.94 per month and include 100 picture credits per month. You can upgrade either the annual or monthly plans to receive more picture credits per month for a fee. 200 picture credits can also be purchased for $24.99. All paying accounts get extra perks including batch processing, quicker servers, and more.
VanceAI can also be used as an API package. This API contains all of the VanceAI tools you need and may be integrated with a variety of software programs. If you want to use the VanceAI API, you may begin with a $39.8 per month membership that includes a generous 1000 picture credits each month. This can be increased to 10,000 picture credits each month for $398 per month.
VanceAI Alternatives
You can use VanceAI alternatives to obtain a good concept of how the tools work before committing to a long-term subscription to VanceAI. These alternatives are free to use and can get the job done, but they do not have the same functionality as the original tools. You can use photorestoration.ai online to restore outdated images and receive results immediately. colourise.com, on the other hand, may assist you colorize antique or black and white images with good effects. VanceAI Technology also offers a completely free online PDF processing toolkit, VancePDF.com.
Final Verdict
VanceAI undoubtedly provides a plethora of benefits to customers that are appealing enough to entice them to pay and use the tools on a regular basis for an extended period of time. The Creativity series not only provides diversity, but also performance, which is critical in creative picture editing because the first aim is to make your images seem amazing. In addition, if you just want to increase image quality, it is a good way to use the single product VanceAI Image Enhancer.