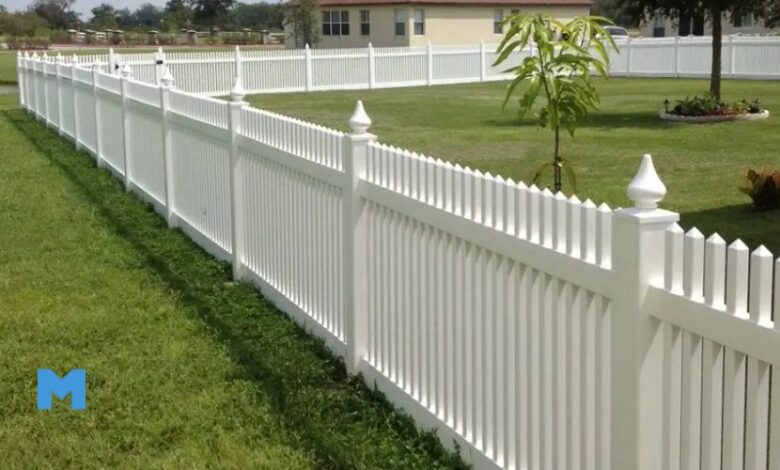 An Overview of Vinyl Fencing
Vinyl fencing is significantly less expensive than wood fencing. Vinyl fencing ranges in price from two dollars to six dollars per picket, depending on the type of fencing you choose, while wood fencing can cost anywhere from two dollars to ten dollars per picket. Vinyl fencing is an excellent choice for fencing at a reasonable price!
White vinyl fencing is probably what you've seen because it's the color that most customers choose. Vinyl fencing, on the other hand, is a very adaptable material that can be made to look like wood fences in a variety of colors. There are a lot of different kinds of vinyl fencing and vinyl fence covering, including wall toppers, wall picket fencing, and even a lot of different styles.
Characteristics of Vinyl Fencing
Vinyl fencing is a durable option for those looking for a solution to their fencing problem. This product is incredibly durable, weatherproof and reliably endures the elements over time. It won't rot, warp, or fade over time, and it won't need any more upkeep or maintenance, especially if you work with reputable patio cover builders.
Vinyl fencing comes in a wide range of styles and colors, so you can be sure to find something that perfectly complements the design of your home. The knowledgeable staff can assist you in selecting the ideal vinyl fencing for your property, regardless of whether you want a contemporary or traditional fence.
Vinyl fencing is an excellent choice for low-maintenance fencing because it is simple to clean. You can be sure that it will look good for many years to come because it is also resistant to fading. Vinyl fencing doesn't need to be painted or stained as wood fencing does, which saves you time and money and makes your property look its best.
How to Decorate Vinyl Fencing
Adding colorful shrubs is one of the best ways to offset the white of your vinyl fencing. For stunning purple contrast, choose a nine-bark shrub or the California native flannel bush for year-round green color.
Crawling vines up your fence is the most visually appealing option. Other options include clematis, Dutchman's pipe, and morning glory, all of which come in a variety of colors to suit your preferences.
If you want to use your outdoor space at night, elegant lighting on a vinyl fence covering is a great way to make it feel more welcoming. There is something for every outdoor space, and there are many options.
Are you searching for a fast and effortless way to transform your outdoor area into an enchanting oasis? In front of your white vinyl fence, try spacing out native decorative grasses. The contrast of colors will delight you, and grasses are simple to maintain.
When to Replace Vinyl Fencing
Vinyl fencing is constructed from polyvinyl chloride (PVC) and other synthetic materials and is made to withstand varying weather conditions throughout the year. Vinyl fences don't need to be painted or stained by patio cover builders, so it's easy to keep them looking nice.
If the vinyl fence you have has become dull or discolored, it could be the result of wear and tear caused by the sun or rainwater. Additionally, the fence may need to be replaced sooner rather than later if you observe cracks forming in the vinyl material. Check your fence regularly to see if it needs to be fixed before more damage happens.
In comparison to other types of fencing materials like wood and metal, vinyl fencing requires very little maintenance. Use a soft cloth to remove dirt and other debris from the fence's surface regularly to keep it looking its best and to prevent damage from dirt buildup. Additionally, check your fence for any potential loose screws or bolts.
How to Make Your Vinyl Fence Last Longer
In addition to regular cleaning and inspecting your vinyl fence covering, there are other things you can do to make it last longer, like:
Use UV-protective sealants to prevent fading.
Include a layer of mulch around the base of the fence to prevent weed growth
Install trellises along the top of the fence for additional support and aesthetic appeal.
Myths about Vinyl Fencing
Myth #1: Vinyl fencing is not as durable as wood fencing
This simply is not the case. Vinyl fencing is typically considerably more robust and long-lasting than wood fencing. Because of the versatile PVC material that vinyl fencing is made out of, it can endure serious weather patterns and altercations with the lawnmower superior to wood can. Additionally, unlike wood, vinyl fencing is resistant to rot and decay.
Myth #2: Vinyl fencing cannot be repaired 
Despite their impressive durability, vinyl fences may occasionally sustain minor damage from everyday use. Vinyl fencing, fortunately, can be easily repaired or replaced as needed without having to redo the entire fence. Contact one of the vinyl experts or patio cover builders to set up an inspection if your vinyl fence needs repairs!
Myth #3: Wooden fencing is more economical than vinyl fencing
The making of vinyl fencing is simple and fast and it is affordable for everyone to start installing vinyl fencing in their backyard. In addition, vinyl fencing will not require as many repairs or replacements over time, making it generally more cost-effective than wood fencing in the long run.
Myth #4: Although vinyl fencing will almost always look different from wood fencing
Dozens of design options can help you customize your vinyl fence to look exactly how you want it to. Vinyl fencing is not as attractive as wood fencing. Improve the aesthetic of your home by harmonizing vinyl gates and railings with both color and architectural style!