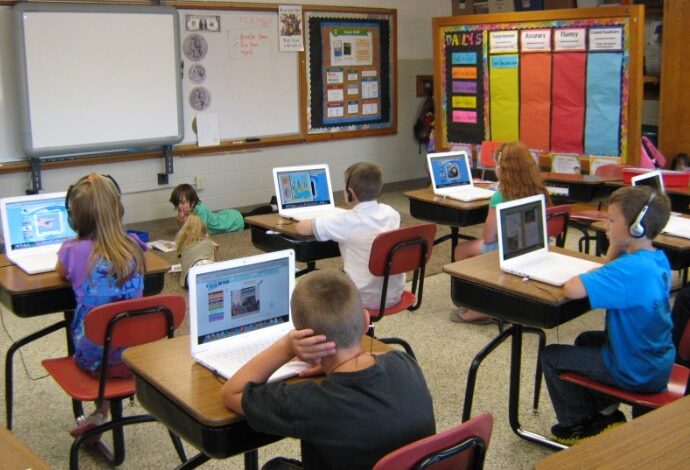 Technology
6 Positive and Negative Impacts of Technology on Education
The promise of technology in education is enormous. You can't deny that. Technology enables personalized learning, saves, and equips students with 21st-century skills, making them more ready for the future.
The education technology market as a whole is now worth over $340 billion. The number includes all tech-based learning solutions for primary, secondary, and higher education. Still, it clearly indicates that technology plays a vital role in the classroom and the learning process.
Of course, nothing's perfect. Technology can be a huge distractor, can make students lazier, and can even lead to plagiarism issues. Do the pros outweigh the cons? Well, that's exactly what we're here to find out.
Let's look at six positive and negative impacts of technology – three of each – and try to answer the question: is tech an asset or a hindrance in education?
1. Positive: Encourage Self-Education
Technology has given access to a nearly unlimited amount of material from education professionals and institutions. It also allows students to interact with tutors and mentors online to supplement their studies.
Some 50% of students aged between 10 and 18 get online help for their homework at least once weekly. With websites like 24HourAnswers, which connect students with PhDs and professors in their fields, it's easier than ever to get help from experts.
2. Negative: Sedentary Lifestyle
On the other side of the spectrum, we have the chronic lack of physical activity students face. During the pandemic, inactivity was associated with a higher risk for COVID outcomes. Even with the pandemic slowing down, inactivity is still associated with an increased risk of cardiovascular diseases, diabetes, and cancer.
With millions of students facing this, it's up to educators and parents to set standards for physical activity in their students' daily routines. There are a few ways to combat inactivity:
Remind students to have breaks every 45 minutes or so
Popularize school sports clubs and physical education classes
Use technology to gamify physical activities. Think Pokemon Go.
Bringing physical activities back into the classroom can combat inactivity and provide a better educational experience overall.
3. Positive: Meeting Informational Requirments
In the past, a large percentage of students failed to meet the basic informational requirements. It's estimated that schools fail to educate 30% of students properly. So how can technology help?
It turns out technology can bridge the gap between what schools are teaching and what students need to know. With access to online material and lectures, students can fill any knowledge or information gap they may have.
Nearly 60% of middle school students say that digital education tools have helped them improve their grades. With technology, teachers can provide personalized learning experiences and get students to understand the material more easily.
4. Negative: Potential Plagiarism Problem
Technology might have given students an entrance into an immense library of knowledge. However, it has also allowed lazy and unmotivated students to copy/paste their homework, steal full essays, and even purchase pre-made assignments.
A 2021 report from CopyLeaks revealed that during the pandemic, plagiarism among students increased by 10%. Now, between 35% and 45% of students have used the Internet to cheat on their assignments. Schools now have to become vigilant against plagiarism in the classroom.
Using plagiarism checkers, teachers can spot copied content and weed out potentially plagiarized work. A plagiarism checker will compare a piece of writing to a full online database and show its similarities. Being able to detect plagiarism early on is essential in maintaining academic integrity.
5. Positive: Time-Saving for Students
Students, like anyone else, waste a lot of time on tiny, useless assignments like taking notes, copying homework, or borrowing books. Students don't need to waste their precious time when there's a wealth of available technology to help them out.
It's estimated that technology can save you four months' worth of time during your lifetime. Sharing notes, downloading assignments, and having access to online libraries can help students save time.
Using time-management applications like Evernote and Todoist will help students stay on top of their assignments, meet deadlines, and be tidier. With technology, students can have the energy to focus on their studies and improve their grades.
6. Negative: Too Much Distraction
We can't go before addressing the most obvious problem concerning technology in the classroom: distraction. Modern gadgets are known to distract students from listening in the classroom and studying at home. Laptops, phones, and tablets for non-educational purposes are distracting to nearly 50% of the students.
With so much distraction, it's impossible for students to stay focused on the material being taught. The only way to combat this is to set strict rules about the use of technology in classrooms. When used properly, students can benefit from the advantages technology has to offer without getting sidetracked by distractions.
Closing Thoughts
Naturally, the impact of technology isn't completely positive or negative. There will always be a balance between the two. Technology can open up a world of opportunities for students, but they will have to learn how to use it properly to avoid getting too distracted.
The pros of technology in the classroom are definitely worth the potential cons. Still, that doesn't mean that we can't do everything in our power to suppress the negative aspects of it.
With the proper use of technology, students can see an improvement in their academic performance and better understand the material being taught.