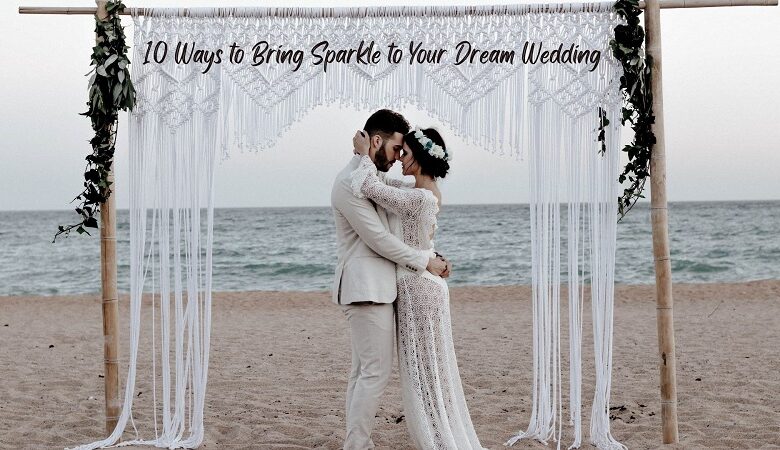 Fashion
10 Ways to Bring Sparkle to Your Dream Wedding
Planning a wedding can seem like a fairytale before you're actually engaged. Venue hunting, dress shopping, choosing wedding rings, and guest list compilation all sound like something out of a fairy tale.
Although every bride looks beautiful on her wedding day, there are occasions when a little extra sparkle won't hurt. Moreover, there is no way you could overdo the sparkle at your wedding. It's your wedding day – any amount of sparkle is more than good.
Fashions in glitzy gowns with bling beading and accessories that sparkle can make your special day even more unforgettable. We've compiled a list of 10 ideas to make your wedding shine.
1- Stunning Nails
Polish your nails in a sparkly shade on your Big Day if you're a fan of sparkle. The tiniest details will shine with radiance when you get a shimmering manicure. Shiny metallic tones or transparent polishes are equally stunning.
With the engagement and wedding rings now on your ring finger, your hands will be in the spotlight all day. Make your solitaire ring stand out with a playful twist on the traditional French manicure by adding sequins, silver stripes, or dazzling gloss.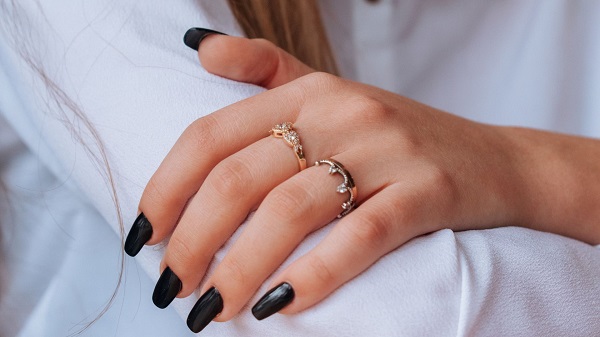 2- Belts And Sashes
You may tie a giant bow out of any number of materials—from gorgeous tulles and floral sashes to a dramatic rhinestone belt or a stunning piece of fabric (like the blue velvet bow up top—and the possibilities are endless). Wonderful for adding a splash of color, defining your waist, or shining up any outfit.
3- Jewels
Accessorizing with jewels is essential for your ensemble. These glistening accessories will take your bridal outfit to the next level, whether you want a simple diamond pendant or a subtle diamond tennis bracelet.
Beautiful earrings are the perfect finishing touch to any updo and are also a great way to add some glitter to your wedding dress. Luxurious diamond stud earrings and wedding sets are a must-have, and wedding day diamonds are a classic must-have as well.
Here are five tips to follow while accessorizing with diamonds on D-day.
The correct pair of earrings can do wonders for your looks, and some necklaces can make you look thinner.
If you want to wear diamond jewelry, be careful not to go overboard.
Ties around the neck are inappropriate for weddings because of the high necklines. For brides who prefer a lower neckline, a choker or other choker-like necklace is a necessary accessory.
Get over your fear of color. Emeralds and other colorful stones are a great way to liven up any ensemble.
Think practically and get the jewelry you will wear again, rather than just having it sit securely after the wedding.
4- Brooch Bouquets
Elegant and eye-catching brooch bouquets are a great alternative to a traditional tie for a wedding or other formal event. You can incorporate as many or as few brooches and as many or as few different colors as you like into a brooch bouquet, depending on your personal preference. They can be kept as a memento and displayed with pride long after the celebration has ended.
5- Shoe Clips
Put on a pair of dazzling shoes as a hidden surprise under your dress. You can't go wrong when you add some shimmer, whether it's in the form of a full-on glittery moment or a lovely gem accent.
A pair of inexpensive heels in white or another neutral color can be transformed into a perfect bridal shoe with the help of one of these clips.
6- Floral Bow Ties
Dress up your wedding flowers with a refined ribbon. Consider adding a touch of stunning glitz to your bouquet with sequins, satins with embroidered accents, or a string of pearls. For a more country feel, tie a bow out of baker's twine or Hessian and use that to adorn your bouquet.
7- Statement Jewelry
Statement necklaces are a fun and fashionable choice for modern brides who want to stand out with wedding jewelry. Wearing a bold necklace with stunning diamond styles is a great way to add flair to a plain dress, whether it has a high neckline, no neckline, or is strapless.
The high street is stuffed with beautiful options, such as crystal necklaces and rhinestone necklaces, that you can choose from if you're interested in shimmer.
8- Beautiful Brooches
If you're a traditionalist and want to include something ancient in your wedding, a brooch is a classy and understated way to do so. Choose a brooch that was passed down from your mother or grandmother as a meaningful way to do it without drawing too much attention to it.
9- Wedding Clutch
An elegant clutch can replace a traditional bridal bouquet or a simple place to store your essentials like lipstick and a tissue. Keep an eye out for clutches with a sparkling diamante finish, a lovely gold clutch, and a classic pearl design that will complement a wide range of bridal gowns.
The best aspect about purchasing a clutch is that you may continue to use it after the wedding with a variety of different party dresses, just like your diamond wedding band.
10- Hair Accessories
Sparkly hair accessories are a must-have for any bride because of how easily and quickly they can elevate an already stunning hairstyle. A bride-to-be is not a princess until she dons a glittering crown.
Whether you choose a classic tiara or a modern headband with lab grown diamonds, accessorizing your wedding dress with a headpiece can make you seem radiant from head to toe. Many exceptionally skilled Irish designers make stunning hair slides, bands, and other accessories.
Conclusion
You are considering grander, more lavish weddings, and it goes without saying that the glitzy events will have plenty of jewelry and dazzle. The suggestions mentioned above will definitely help you add some glimmer to your bridal attire.
Fabulous nails, lab created diamonds, striking jewelry, tennis bracelets, and the loveliest ribbons for your wedding dress and bridal bouquet are just a few of the ideas that can help you shine on your special day.